The White Rose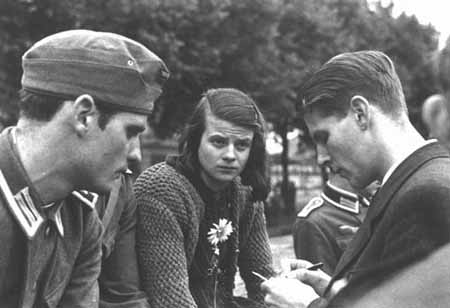 Some years ago I became a admirer of a tiny band of students who called themselves the White Rose. It started with five students, all in the early 20s from Munich University. The White Rose had but a short life, from June 1942 to February 1943 but these brave students should never be forgotten.
At a time when the Nazi dictatorship was at its height of power these students printed leaflets questioning the basic ideas of national socialism. They appealed to a tradition of human rights and classical liberalism.
On February 18, 1943 the brother and sister team of Hans and Sophie Scholl took the newest leaflet to the university and scattered them in a hallway for students to find. As they were leaving they noticed they still had some more leaflets undistributed. Sophie took them to the top of the stairs and flung them into the air. A janitor witnessed this and betrayed them to the Gestapo. They were arrested along with anyone associated with them.
Four days later they were sentenced to death and beheaded. Their last tract was smuggled out of Germany and Allied planes dropped millions of copies of it on Germany during the war. As Hans Scholl went to his death he said: "Es lebe die Freiheit!" (Long live freedom.)
The students of the White Rose were executed because they didn't believe what the all powerful government of the day demanded that they believe. Worse yet they expressed their disbelief. They published their skepticism and urged others to share their heresy.
From the janitor who betrayed them to the judge who order their deaths to the government that ran the court these people were held in utter disrepute. They are today considered monsters and rightfully so. Civilized people do not believe in executing or punishing people for their beliefs.
So what do we make of Jehovah?
Here is an alleged deity who promises that he will punish individuals for their thought crimes for the rest of eternity. The torment that the Nazis inflicted on the students of the White Rose ended with a guillotine blade. The torment we are promised by Jehovah is eternal. In that sense his torture is far worse than any inflicted by human monsters.