Can the vicar compete with the rugby boys?
One thing about desk top publishing is that certainly has increased choice in "religious" material. For instance the spurt, pardon the pun, of racy Christian calendars. It's not that there is just one but several.
We have the Heavenly Hunks calendar from the UK's Portsmouth Cathedral Choir. See the photo of course.
It shows 11 young men from the cathedral choir and the Bishop approved. No doubt. No doubt.
This stripping down is to make the church relevant I guess. The church organist says: "It is a refreshing story about the Church of England and a great example of some young guys doing something fun because of their membership of the church and of Portsmouth Cathedral Choir." The local Bishop says: "I support anything that involves young people having fun as part of the church and congratulate these lads who have bared more than their souls to raise money for these charities."
Far less appealing is the vicar, Michael Storey, who posed as "Mr October" in a calendar to celebrate the 100th anniversary of his church. They haven't decided where to donate the proceeds. But the vicar, who is 66, isn't the oldest male model. One parishioner who bared it for the camera is in his 70s. I wouldn't count on this one being a best seller.
In Germany a Protestant youth group has decided to portray erotic scenes from the Bible. The idea is if they show the Bible to be pornographic, which it is, that it would get young people interested. The local pastor just bubbled: "It's just wonderful when teenagers commit themselves with their hair and their skin to the Bible." The photographer says that there is "a whole range of biblical scriptures simply bursting with eroticism>"
Then we have the utterly flabby assistant curate from Holy Trinity Church in the UK who stripped down for a calendar as well. It's for their, (cough, cough) organ fund! When asked about it the curate said that God "was wandering in the garden of Eden talking to two people who were starkers."
In Goucestershire (these Brits are really obsessed with this calendar idea) the local vicar has thrown his hat into the ring supporting a nude calendar by hanging the photos in the church for all to see. And Rev. Christine Musser of.... where else.... Cornwall, England got a tad bit of criticism because she is on a calendar showing local builders in a state of undress. But the calendars do have spiritual "words" on them. Her response: "Nudity and the Church are not traditionally linked, but to my mind, it was a group of guys who don't come to church, but are very much part of the community who wanted to show their support for their community church. How could I not support them." So she acted as their supporter!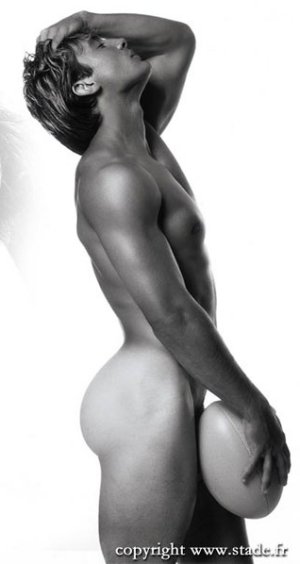 Now you have to give them some credit for trying. But when you have calendars like the one put out by French rugby players then the competition is just a bit too hot for these Christians I fear. I suspect that little old church ladies would much prefer saying "Oh, la, la" . As they said in the US during World War I: "How will you keep them down on the farm once they've Paree?"